Overhead Sliding Gates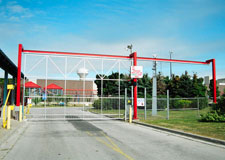 Secure, Heavy-duty and High Cycle Applications
Superior's Overhead Sliding Gate, manufactured by Superior Door & Gate Systems Limited, is used to solve closure requirements that are particularly rigorous. Truly a specialty gate, Heavy Duty Overhead Slide Gates are made to withstand great amounts of stress in very large openings.
This gate may be free-standing, hung between three pairs of 4-1/2" OD posts with a structural steel support I-beam or wall mounted with the appropriate support system. Included is tubular cross bracing throughout the gate to keep the frame members square, Bottom guides are provided for each side of the gate frame and are located at the bottom of the gate and at the center support post. A minimum of two self aligning, four-wheeled, sealed lubricant, ball- bearing, I-beam trolleys are provided with each gate.
Fabric filler can be attached on exterior sides making it secure and attractive.
Our overhead sliding gates are available in steel, aluminum or in a wide variety of ornamental iron style and finishes. Finishes vary from natural aluminum, galvanized steel, vinyl coated over galvanized steel, field painting or several hundred baked-on finishes for a truly spectacular look. Overhead Sliding gates are readily adaptable to any type of electric operator, or they can be easily operated manually by one person.